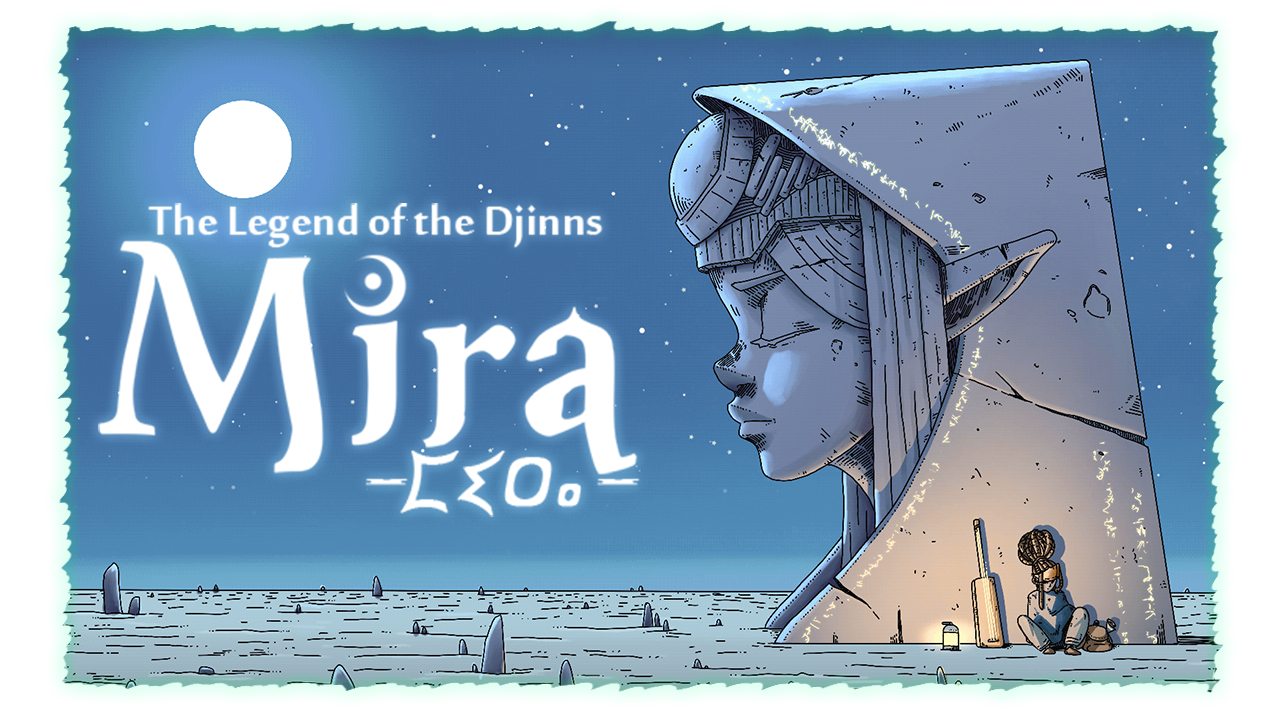 Mira : The Legend of the Djinns
A downloadable game for Windows

Introduction :

ⵡⴰ ⴷ ⵜⴰⴱⵔⴰⵜ ⵏ ⵜⴰⵢⵔⵉ ⵉ ⵎⵉⵜⵔⵓⵡⵉⴷ-ⵠⴰⵏⵢⴰ, ⵙⵙⵎⵏⵉⴷ ⵉⵊⵊⵏ ⴰⵎⴰⴹⴰⵍ ⵢⴻⵜⵜⵡⴰⴳⵎ ⴷ ⵙⴳ ⵏ ⵜⴰⴷⵍⵙⴰ ⵏ ⵉⵎⴰⵣⵉⴳⵏ ⴷ ⵉⵎⵕⵕⵓⴽⵉⵢⵏ

Mira: The Legend of the Djinns is a classic Metroidvania style game to be released on the PC. The story follows the adventures of Yuba, a treasure hunter and explorer who travels the vast expanse of the Desert Ocean, and Mira, a mysterious Djinn who has lost her memories.

We have been working on Mira: The Legend of the Djinns for a little over a year. The mechanics and overall gameplay are inspired by games we loved growing up, including Super Metroid, Castlevania, and The Legend of Zelda. With a combat system inspired from games like Devil May Cry, and Ninja Gaiden.

The world of the game is inspired by Moroccan and Amazigh culture, language, and spiritual traditions.

Background Story :

During a routine job, Yuba discovers an ancient Necropolis. Deep within, he encounters Mira, the first Djinn anyone's seen in generations. To regain her lost memories, Yuba agrees to form a spiritual Bond, something no human has done outside of half-remembered legends.
Together, Mira and Yuba embark on an epic quest to rediscover Mira's lost memories and the secret history of Fallen Amazgesh, a world of ruins and devastation and the only home Yuba has ever known.
Along the way, the pair will discover new friends and deadly enemies, track down priceless artifacts and dangerous ruins, battle against mutated creatures and corrupted spirits, and come face to face with the very cause of the cataclysm that ended Mira's world and created Yuba's.

How to setup and play :

1 - Download the demo. (it's FREE)
2 - Extract the RAR file.
3 - Look for this icon

double click it.
4 - Enjoy the game !
PS : If you get any FPS drops you may need to have these redistributables VC2010, VC2012, VC2013, and VC2015 installed on your PC installed
And make sure you are running the game with your main Graphic Card. Right click the Player.exe and open it with your main GPU.


- Join us on Discord/Twitter/Facebook/Instagram/Website
We are currently running a Kickstarter for Mira! If you enjoyed the demo, support us.


Download
Download
Mira TLOTD pre_alpha_demov1.1.rar
417 MB